Eleven-Tail Minotaur
Kua:

Name:

Kua

Type:

Bijuu || 11-Tail Minotaur

Rank:

S

Elements:

Doton || Gravity

Appearance:

Spoiler:

Kua is instantly recognizable; few creatures inspire more awe or fear in the human mind then the Minotaur. Half man, half bull; the Minotaur lives in the mythos of humanity as a raging demigod monster; strength nearly unmatched and a rage that will tear the world apart. However, while Kua does conform to the classical idea of a minotaur; he is anything but a dirty, monstrous beast. A rare Bijuu that wears clothing of some sort, he is also the only one to carry a weapon. Standing 100 meters tall from the base of his hooves to the base of his horns, and a full 25 meters taller counting said horns; he towers over everything in his path without trouble. Arms thicker than most buildings pack the strength needed to vaporize mountains with one swing of his hammer; while the razor sharp tips of his horns can pierce through entire forests without problems.

Personality:

As is true of all of his kind; Kua is a being that is rife with contradictions. Wise and gentle, savage and beastly; he is all this and more. An intellect greater than any man mixed with the tenacity and strength of the bull; wrapped up in a layer of savage civility. Complex is an understatement; or rather, it is the closest a human mind can come to understanding a creature like Kua. The minotaur is normally a peaceable enough creature, preferring the solitude of the high mountains and pastures where he can rest and relax far away from prying eyes and the whims of the world. Where he lives, herds numbering in the thousands of bison, buffalo, and stray bovine of all species follow; a family of sorts for him to protect. He is the creator of the mountains and the high meadows; constantly at odds with the forest monkey Kishit for his destruction of the dense tree lines in favor of the wide grasslands his kind prefer.

His size allows him a measure of safety; few creatures could begin to harm him, and even fewer would bother those in his care. He can frequently be found lounging against the side of mountains, often times nearly as tall as the mountains themselves.

It is in times of conflict that the savage nature of the bull emerges; Kua is almost a berserker when he fights, rarely bothering to acknowledge that there can be friend or foe in a fight. His eyes routinely turn red in battle; shining like a beacon of his barely controlled beastial rage. While he is proficient in the use of hammers, axes, and other heavy weaponry; he is just as likely to utilize one of his many Doton techniques as he is to swing his weapon, and even more likely to drop all, lower his head, and charge with his tree-sized horns. It is nearly impossible to stop his rages until everything around him is a devastated wasteland; although he is particularly vulnerable to the plight of his herd. He would do anything to keep them safe; up to and including offering his own life for their safety.

History:

Kua was not always a Bijuu, nor was he even born as a chakra beast. Centuries ago he was nothing more than a champion fighting bull, fawned over and beloved by the people of the village he was born in. Huge by any standards; he was the epitome of his species from the moment of his birth. His life was hard, but he was happy enough; he was never hungry, never cold nor too hot outside of battle, and he was always treated to the finest luxuries a bull could ever want. He was a simple creature living a simple life; and that was enough. It was in his 10th year of life that his world changed; in the forests outside of his home had lived a smaller chakra beast, no larger than a prairie buffalo but far stronger than any of the humans or beasts around. It was a strange creature; shaggy and sporting strange extra arms and legs that stuck out at odd angles. Why it decided to attack the village was never understood; in later years Kua came to believe that it was the noise of the bull fights that angered it. In it's rampage it made the mistake of charging into the fighting arena while Kua was in the middle of a pre-fight celebration; he would always do laps around the arena and show off his perfection to the uproarious applause of the people. He was just a simple bull at the time; he had no idea what to make of the beast; all he knew was that it needed to die after the first time it attacked him. The attacks were strange, he'd never seen jutsu or chakra before, ninja didn't exist in his village. Blasts of fire singed his fur, claws dripping with some kind of acid burned his flesh whenever an attack from either side landed. Kua was fighting for his life here; and he was losing. No bull could hold up to a chakra beast, after all. Not normally, anyway. It was pure luck that allowed him to survive; the creature had reared up to hit him with clawed hands, and Kua saw a chance to charge; his horns had never been filed down for safety; they were still razor sharp and plenty lethal. His charge was successful; piercing the heart and lungs of the beasts and ripping them clean out of it's body. Kua was seriously hurt, but he would live even without the medical attention he received.

It was a few days later that the first changes were noticed. The terrible burns and gashes sustained in the fight had perfectly healed; no marks marred his body. He was filled with a strange energy he'd never known; he'd all but stopped feeling tired at all, and no longer needed to eat as often; although his appetite when he did eat had nearly tripled. He found himself slowly being able to understand the speech of his handlers; something he'd never been able to do before; it had just been gibberish to his ears. After a few weeks his handlers were astounded to find he was growing again; not just in weight but in overall size. Horns had lengthened; his body was longer and taller, and his muscle mass had risen by nearly a quarter. Even with his increasing intellect, he couldn't understand what was happening to himself; he had no way of knowing that by defeating the chakra beast as he had, he'd absorbed it's chakra and power and was slowly changing because of it.

News of his fight and victory traveled fast; bringing him new fame and opponents from far and wide. Bulls larger than anything he'd ever seen or existed in their lands began appearing to challenge him, and each was dispatched with a lessening degree of trouble. The further out from the death of the chakra beast, the stronger he became; until he'd finally grown to equal the beast in power. He was now almost three times his original size and weight; with physical power that terrified everything around him. His mind had grown comparable in intelligence to a human child, able to understand most of what was said around him and even able to begin to plan and such before and during his fights. He was unbeatable now, far greater than any bull that had ever existed before him.

Then the second chakra beast appeared. His fame was to be his downfall; chakra beasts had an innate need to challenge anything that was equal or stronger in power than they were, knowing that defeating it would make them stronger. Kua's reputation had grown so much that chakra beasts of the country had come to believe he was one of them; not and entirely untrue assumption. He was still mostly a bull, but enhanced now; more than what he had or could have been. The second beast appeared and challenged him; this time some sort of wolf-type creature. The fight was short; the beast was fast, but it couldn't handle the sheer power of Kua. Between sharp hooves and horns and the power behind their strikes, the beast was dead in minutes; and Kua was once again filled with the power of the fallen beast.

This cycle continued for months; he'd defeat any beasts that came to challenge him, and each time he grew larger, stronger, and more intelligent. The people were becoming afraid; both of Kua and of the attacking monsters; they knew the beasts came for Kua and Kua alone; causing them to eventually turn on him as well. No amount of fame and coin that Kua could bring was worth the danger. He was turned out into the wild; banished from the village of his birth and left to roam the world as one of the chakra beasts he was constantly having to defeat. This cycled continued for nearly a century; with each beast he killed his lifespan would grow significantly; before that day. It was the second day that would change his life; the day he stumbled through the mountain fog and into the Valley of the Chakra Beasts.

A lesser being would have died long before making it that far; but by that time he'd grown to well over 20 meters tall and far stronger than the poor beasts that still tried to beat him. Wandering into the valley was nothing to him; it anything it should have given him a place to be safe. Within the valley the beasts rarely competed as they did in the outside world; there was no point after all. Lost and in need of water; Kua wandered around the strange place until he came upon a strange spring; seemingly bubbling forth from the top of an oddly shaped tree. Whatever the liquid was, it smelled to him like the sweet, clean mountain water he desperately needed. His only thought was of slaking his thirst; he went right to the spring and lowered his head to drink. The moment his muzzle touched the liquid, his world was forever changed once more.

The spring he had found was not a spring of water, or any other true liquid. He'd stumbled across the Wellspring of Life; the very origin of all chakra and life energy in the world. By touching the pure energy held within the pool, he was able to absorb an enormous amount of it; quickly and permanently changing him from just another chakra beast of the world into one of the great and power Bijuu; his two horns growing and changing to reflect his new position as the Two-Tailed Bijuu. The pure life energy flowing through his body forced a final change; he was far more than just a bull even before that point, now his body would show it. Exploding in size, he rose to stand on two legs like a man; muzzle and throat changed to allow for language and speech without problem; front legs shifting and changing into three-fingered hands similar to that of a primate. When the change was complete his journey from simple bull to Bijuu was complete; on the spring he swore to become too protector of his kind. He'd seen far too many fall to the whims of man and chakra beast; he would return to the world beyond the valley and gather them where he could protect them. In the moments before he left, he spotted a strange object laying against the side of the spring; a hammer so small that he could barely pick it up. However, once he had it began to grow and change until it fit in his hand perfectly. From the hammer came a strange, new power; the power to control gravity itself; perfect complement to the power of Earth he'd gained from the spring.

Abilities:

Houjin's Hammer:

Name:

Houjin's Hammer

Type:

Hammer

Rank:

SS

Description:

Hammer:

History:

Generations ago, before even the time of the Legendary Rikudo Sage; there lived a master blacksmith, Houjin; so renowned that even today his work has not been surpassed. The legends tell of a special hammer the smith used; a hammer with strange, powerful abilities that no one but the smith could use or understand. This hammer was his prized possession, it is said the man was a nomadic hermit of sorts; he travelled the lands and rarely spent long in any one place.

The legends tell that the hammer itself was originally nothing more than a common blacksmith's tool originally. Gifted to Houjin by his first master; this hammer is the signature tool of his trade. Every blacksmith carries one or more hammer; usually several sets of specialized hammers in order to perform various jobs and construct dozens of different items. This particular hammer was once used by his master, one of his personal creations from when he was a young apprentice. Houjin gratefully accepted the gift and worked hard to make it his own; using it almost exclusively during his initial training and while he worked under the various masters of the lands he traveled to. It was during this travels that Houjin stumbled across a great secret; something that he only revealed to his most trusted apprentices on his death bed.

High in the deepest, most inaccessible mountains of Hana exists a cave; deep within resides a strange stone that was unlike anything he had ever seen. In his later years; he came to believe the stone was the remnants of a metor fallen to earth before the time of man and beasts; encases in the ever growing mountains and hidden from the world. Upon finding this stone; his curiosity as a blacksmith was peaked; and he attempted to chip away a sample of the stone to examine more closely. It was his favorite hammer he selected for the attempt; and this hammer would become legend for it.

Upon striking the stone, a strange tone filled the air; the force of the impact had caused the stone to vibrate, as well as the steel head of the hammer. The stone began to glow with an otherworldly light as the intensity of the vibrations grew stronger. Houjin found himself unable to hold his beloved hammer any longer, as it was vibrating violently and seeming to grow heavier than anything he had ever known before. When release, the hammer snapped from his hand and to was pulled to the stone itself; beginning to glow the same color the moment contact was made.

A few moments later the sound and light began to die; and Houjin was left deaf and almost blinded. Thankfully, both conditions were temporary, and he decided to attempt to retrieve his hammer and leave that place. When he grabbed the wooden handle, he discovered that he could not remove the hammer from the stone; it was almost as if it had been glued to, or merged with, the stone. Several attempts where made; he even attempted to chisel the hammer from the stone with his other tools; but to no avail. The hammer was stuck; and no amount of tooling would help him.

Where normal men would have given up and left behind the hammer; it was afterall just a common tool of the trade, easily replaced; Houjin's loved the hammer, the sentimental value was too much to abandon. A man of brains as much as brawn; he began to examine the stone and his hammer; and after a time realized that something was wrong. When he was very close to the stone; itself like things were heavier than they should have been; his tools, his body and clothes, the air itself. Very strange. The stone was exuding some kind of influence on the very air around itself; something he'd never seen before. It was when he realized this that he changed his tactics; Houjin was far from a normal man. In his world, there were people that had strange abilities; powers unlike everyone else. These strange people were the ancestors of many of the earliest ninja clans, and where among the first humans to have any sort of manifested control over chakras and elements. Houjin had a particular affinity for Fire himself, but that wasn't to say he wasn't relatively talented with basic chakra control; at least for the era. Focusing some of his chakra into his hand, he attempted to counteract the strange force of the stone; and in doing so caused a reaction that created within the hammer one of the very first advanced chakra releases: Gravity.

Once his chakra was channeled into the hammer, the power of the stone flowed into his body and created a special bond between him and the hammer; allowing him to control the new abilities granted to it. His was able to take his hammer and leave; and from that point on his name became legendary. The power of the Gravity Release he controlled allowed him to work with stones and metals considered unworkable; and the ability to adjust the gravity around himself and the hammer meant he was able to craft shapes and details thought impossible. While never a weapon in his mind; he quickly realized that the hammer could be used as such, and expertly so; also eventually discovering that he could channel the hammer's power through his own body, and use his own chakra to manifest strange new abilities and attacks that he used to keep himself safe in his travels.

When his time was ending and he lay on his deathbed; he passed the ownership of the hammer, as well as it's secrets and a small portion of his special chakra to his favorite apprentice; who continued to use the hammer much as his master before him. This cycle continued for some time, the previous master passing the hammer to a trusted apprentice; until the time of the Chakra Beasts and the Rikudo Sage, at which point the hammer was seemingly lost to history.

Enhancements:

Weapon Transmutation:

The power to transform one's weaponry into various different shapes and forms. Variation of Weapon Manipulation and Weapon Transformation. Used mainly to adjust the size and shape of the hammer in relation to Houjin's current form and needs during weaponry creation.

Also Known As
Weapon Morph
Weapon Shifting

Capabilities
The user can transform their weapon(s) into different shapes and forms through various means.

Associations
Weapon Manipulation
Weapon Proficiency
Weapon Creation

Limitations
Used primarily to adjust the shape of the hammer to create other weapons
Hammer is not well suited for proper combat; however can be used as a last resort

Gravity Release:

Gravity Release (重力術, Jūryoton; Viz "Gravity Style") is a special advanced release that allow the user to manipulate, control, and generate gravity. These techniques can be used to change a person's physical mass, create gravitational fields, and to attract and repel objects. It can also be used to increase a person's physical power and strength. By decreasing the pull of gravity beneath them, the user can fly at any speed or height at which they can still breathe.

Techniques:

Levitation:

Name: Gravity Release: Levitation
Canon/Custom: Custom
Rank: S
Type: Supplementary
Element: Gravity
Range: /
Specialty: Requires Houjin's Hammer
Duration: -15 chakra per post
Cooldown: Duration + 5
Description: By controlling the gravitational force with the help of Gravity Release, the user can levitate around freely without getting pulled by the earths gravitational force. Due to the fact they can completely control the forces of gravity they can also fly at tremendous speeds; maxing out at roughly 100 mph (160km/h). So long as this jutsu is active, all other abilities granted by Houjin's Hammer (including other jutsu and special abilities of the hammer itself) are deactivated.

Tectonic Smash:

Name: Gravity Release: Tectonic Smash
Canon/Custom: Custom
Rank: B-SS
Type: Offensive
Element: Gravity
Range: Melee
Specialty: Requires Houjin's Hammer
Duration: /
Cooldown: B:5, A:7, S:10, SS:15
Description: The user swings the hammer towards the ground or an enemy and at the moment of impact increases the gravity surrounding the hammer; causing the force of the impact to increase exponentially. The amount of the boost determines the damage output. B-rank can easily shatter bone and punch through steel armor. A-rank can punch through a person and cause serious damage to A and S-rank chakra beasts. S-rank can level an area of 5 square miles. SS-rank can cause fatal damage to Bijuu/Jinchuuriki and level mountains.

B-Rank: 2x
A-Rank: 4x
S-Rank: 8x
SS-Rank: 16x

Earth Style Wall:

Name: Doton: Doryuu Heki no Jutsu [Earth Style wall]
Canon/Custom: Canon
Rank: B
Type: Defensive
Element: Doton
Range: Close (0-5m)
Speciality: Ninjutsu
Duration: Instant
Cooldown: Four turns
Hand Seals: Tiger, Rabbit, Boar, Dog
Description: The user creates a solid wall of earth as a form of defence. Chakra is either converted to earth within the body and then spat out to form the wall, or the user can manipulate pre-existing earth to form the wall. The earth then instantly rises up and takes form. The barrier itself is also coated with chakra, it's strength incomparable to that of a normal mud wall. Because of the earth's special characteristics, the wall is highly resistant against, for instance, fire and water. Powerful enough users can create massive walls. The wall can have different designs based on who's creating it.

Earth Flow Divide:

Name: Doton: Doryukatsu no Jutsu [Earth Release: Earth Flow Divide]
Canon/Custom: Canon
Rank: B
Type: Offensive
Element: Doton
Range: Short (0-5 m), Medium (5-10m), Long (15m+)
Speciality: Ninjutsu
Duration: Lasts until the user removes their hand
Cooldown: Five turns
Hand Seals: Rabbit, Boar, Rat, Horse, Tiger, Snake
Description: The user forms the related hand seals, and places their palms on the ground. Sending a flow of chakra through the ground, the user can tear the earth apart, creating a large chasm. The length, width, direction and curve of the chasm are all up to the user. This technique lasts until the user releases their hands. It costs 25 chakra on the first turn, and 5 chakra per turn afterwards to sustain the effect.

Strong Servant Warrior:

Name: Doton: Goremu no Jutsu [Earth Release: Strong Servant Warrior Technique]
Canon/Custom: Canon
Rank: A
Type: Offensive/Defensive/Supplementary
Element: Doton
Range: short (0-5m)
Speciality: Ninjutsu
Duration: The golem lasts four turns
Cooldown: Ten turns
Hand Seals: Boar
Description: The user either spews up a large mass of stone that quickly forms into a massive stone golem, or grows one from nearby stone. This golem is a reasonably slow but incredibly durable and physically powerful monstrosity, able to easily rip apart anything it grabs with it's powerful arms and teeth. Due to it's power and physical durability, it can both be used to block attacks and to damage an opponent. The golem is weak to lightning attacks, which interfere with it's functionality. This costs 20 chakra.

Earth Mausoleum Dumpling:

Name: Earth Release: Earth Mausoleum Dumpling (Doton: Doryō Dango - 土遁・土陵団子)
Canon/Custom: Canon
Rank: B
Type: Offensive
Element: Doton
Range: 20 meters
Specialty: Ninjutsu
Duration: 1 Post
Cooldown: 6 Posts
Description: With chakra work and superhuman strength, the user lifts up the very surface of the Earth. The lump of earth is gigantic and the destructive power is obvious. But even just the visual impact can be enough to make enemies lose their fighting spirits and run away. The ball of earth is then hurled at his opponent, flattening everything in its path.

Swamp Of the Underworld:

Name: Earth Release: Swamp of the Underworld (Doton: Yomi Numa - 土遁・黄泉沼)
Canon/Custom: Canon
Rank: A
Type: Offensive
Element: Doton
Range: 40 meters
Specialty: Ninjutsu
Duration: -25 chakra per post
Cooldown: Duration + 6
Description: By changing the surface of an object beneath an enemy into mud and creating a swamp, the user can sink his enemy into the mud. The adhesive, chakra-infused mud ensnares the enemy's body, making it almost impossible to recover one's strength and escape from the swamp. The size and depth of the created swamp depends on the user's skill and the amount of chakra used, but if the user is an expert in this technique, it will always be possible to make a fair-sized swamp which is extremely effective against a great number of enemies or when having to face gigantic creatures.

Earth Spear:

Name: Earth Release: Earth Spear (Doton: Domu - 土遁・土矛)
Canon/Custom: Canon
Rank: S
Type: Supplementary
Element: Doton
Range: Self
Specialty: Ninjutsu
Duration: -35 chakra per post
Cooldown: Duration + 8
Description: The user flows chakra through all parts of their body causing it to become noticeably darker, which increases their defensive power to its utmost limits by making the skin as hard as diamond. Furthermore, the destructive power of physical attacks is increased, making this a great all-purpose technique. The amount of techniques that can break through the areas hardened by the Earth Spear are close to zero, excluding its undeniable weak point: Lightning Release ninjutsu. Only A-rank or above Raiton-enhanced, and S-rank or above other jutsu will break through this jutsu.
Combat Pet
Little Kong:

Name:

Little Kong

Type:

Combat Pet

Rank:

S

Element

: Fuuton

Species:

Simian

Appearance:

Description:

Little Kong is the 10 year old baby brother of Kong, the Chief Gorilla of the Great Sage Apes. He is very intelligent and capable of speaking English. Little Kong stands 4 feet high and weights 100 pounds. At only 10 years of age Little Kong is already considered a genius in the 5 variations of Tai Shing, or "Monkey Kung Fu." Little Kong wished to grow up in an nontraditional fashion. After Kurai Yanagi became the first human in over a century to prove himself to the Great Sages, and was highly praised by the older Kong (something the Chief Gorilla did only very rarely) for fearlessly confronting a tailed beast single handed, Little Kong requested that he be allowed to be claimed by Kurai as his "pet" so that he could live with him among the humans. Much like Kurai, Little Kong possesses a mysterious personality and rarely ever speaks; when he does it is only to those he knows, or when the situation calls for it.

Special Characteristics:

Enhanced Reflexes:

Name: Enhanced Reflexes
Type: Supplementary
Requirements: /
Ability Tier: Tier 2
Minimum Rank: D
Description: The user has trained their body and mind to react far faster then normal. Because of this they are able to react with the speed of someone ONE rank above their own. Only affects reaction times; not general movement speed.

Enhanced Speed:

Name: Enhanced Speed
Type: Supplementary
Requirements: /
Ability Tier: Tier 2
Minimum Rank: D
Description: Having trained and honed their speed to a degree far beyond normal, the user is able to move with the equivalent speed of someone ONE rank above their own. A Genin would have the movement speed of a Chuunin, etc. This effects movements (Running/walking) speed ONLY.

Tai Shing:

Tai Shing

There are five variations of monkey kung fu developed as part of the Tai Shing system:

Drunken Monkey uses a lot of throat, eye and groin strikes as well as tumbling and falling techniques. It incorporates a lot of false steps to give the appearance it is defenseless and uses a lot of off balance strikes. The practitioner waddles, takes very faltering steps and sometimes fall to the ground and lies prone while waiting for the opponent to approach at which time a devastating attack is launched at the knees or groin areas of the opponent. In drunken monkey you use more internal energy than any other. It is one of the more difficult of the monkey styles to master and also extremely effective against a standard, attack-oriented enemy. Countering this style involves shifting your body around often to ensure that the Drunken Monkey user impacts more solid, tougher areas of your body.

Stone Monkey is a "physical" style. The practitioner trains up his body to exchange blows with the opponent - Stone Monkey uses a kind of iron body method. It will leave an area exposed on its body for an opponent to attack, so it can attack a more vital spot on the body. It is important not to attack reflexively at open spots, and try to hammer away at their weak spots until they give in.

Lost Monkey feigns a lot. Practitioners of Lost Monkey give the appearance of being lost and confused to deceive the opponent into underestimating his abilities, and he retaliates when it is least expected. The hands and footwork change and flow from each other at will. All monkeys are sociable animals and so they live in troupes or family groups. They are also very territorial by nature and so when they wander into the territory of another troupe there is normally a fight possibly resulting in death to the trespassers. This technique incorporates the fear, nervousness and mischief of a monkey who has wandered into a neighboring territory, in that it attempts to pick and eat as many fruits and insects as quickly as is possible while nervously looking around before scurrying back to its own home range.

Standing Monkey or Tall Monkey is a relatively conventional monkey that likes to keep an upright position and avoid tumbling around. This style is more suited for tall people. Tall monkey likes to climb body limbs to make attacks at pressure points. It is a long range style.

Wooden Monkey mimics a serious, angry monkey that attacks and defends with ferocity. The attitude of this monkey is more serious, and its movements are noticeably less light than the other monkeys. Wood monkey likes to grapple and bring its opponent to the ground.

Jutsu:

Gale:

Name: Gale
Canon/Custom: Canon
Rank: D
Type: Offensive
Element: -
Range: Close (0m - 5m)
Specialty: Taijutsu
Duration: 1 post
Cooldown: 2 posts
Description: This technique is a good example of how even simple taijutsu can become a pre-eminently destructive, lethal technique. The attack is a simple rear spinning low kick, but a strong enough user can send a large adult flying as if they weighed nothing. The goal is to throw the enemy off balance, and deal damage to the lower half of their body.

Great Whirlwind:


Name: Great Whirlwind
Canon/Custom: Canon
Rank: C
Type: Offensive
Element: -
Range: Close (0m - 5m)
Specialty: Taijutsu
Duration: 1 post
Cooldown: 2 posts
Description: This technique is a series of kicking attacks, starting from a low kick and linking into a middle kick and high kick then finishing off with a heel drop. As the rotation speed picks up the user gains buoyancy, which they use to shift into gradually higher attacks.

Strong Whirlwind:

Name: Strong Whirlwind
Canon/Custom: Canon
Rank: B
Type: Offensive
Element: -
Range: Close (0m - 5m)
Specialty: Taijutsu
Duration: 1 post
Cooldown: 2 posts
Description: A taijutsu technique using a combination of speed and power. The essence of this technique is concentrated in a spinning back kick, with such speed that not a single person can follow the user's movement, smashing his enemy with overwhelming strength. It also creates a powerful whirlwind around the user which can be used to attack multiple opponents. Victims of this attack will be stunned for 1 post and recieve injuries such as broken bones and internal injuries, depending on where the attack hits.

Barricade Crash:

Name: Barricade Crash (Barikēdo Shōgeki - バリケード衝撃)
Canon/Custom: Custom
Rank: B
Type: Offensive || Defensive
Element: Fuuton
Range: 30 meters
Specialty: Taijutsu
Duration: 2 posts
Cooldown: 6 posts
Description: The user leaps into the air and causes a ball of air to condense around themselves over the course of 1 post. This ball is razor sharp and causes severe lacerations to anything that comes in contact with it, as well as repelling all D-Rank jutsu and weaponry entirely, and reducing the damage from all C-rank attacks by 50%. On the second post, the user performs an overhead spin kick within the ball, causing it to fly with speed comparable to a Jounin (B) level ninja's sprint toward their opponent. Upon impact, the ball explodes, causing both laceration damage and impact damage, able to crush bones and cause significant internal bleeding.

Cannonball Strike:

Name: Cannonball Strike (Kyanonbooru Ouda - キャノンボール 殴打)
Canon/Custom: Custom
Rank: B-Rank
Type: Offensive
Element: /
Range: 10 meters
Specialty: Taijutsu
Duration: 1 posts
Cooldown: 5 posts
Description: After getting a running start, the user jumps into the air and uses their chakra to propel them forward as they curl into a tight ball. Upon reaching the target, the user can execute either a heavy drop kick or a downward axe kick, depending on their position. This attack is a great follow-up move and is also a last-resort defense when up against projectiles and the need for close combat is dire.

Clone Body Blow:

Name: Clone Body Blow (Bunshin Taiatari - 分身体当たり)
Canon/Custom: Canon
Rank: B-Rank
Type: Offensive
Element: /
Range: Melee
Specialty: Taijutsu
Duration: 1 posts
Cooldown: 4 posts
Description: Using the Shadow Clone Technique, the user creates four clones. The five bodies then confuse the enemy using a variety of moves and combinations and while the enemy is preoccupied with the clones, leaving them open for the user to strike the enemy's weak point. By using clones, this technique's offensive power is much higher than a normal body blow.

Hot Fist:

Name: Hot Fist (Nekkiken - 熱気拳)
Canon/Custom: Custom
Rank: A-Rank
Type: Offensive
Element: /
Range: Melee
Specialty: Taijutsu
Duration: 1 posts
Cooldown: 6 posts
Description: The user focuses their chakra into their arms and fists and condenses it until it heats up to the point of causing steam to leak from their pores. The user then fires a massive number of high speed punches at the target, which when combined with the superheated chakra and steam heating of the air around the user and target creates the perfect storm of extreme physical trauma and severe burns. The target is almost guaranteed to suffer catastrophic internal injuries as well as second and third degree burns over a significant portion of their body.

Shadow Clone Technique:

Name: Shadow Clone Technique
Canon/Custom: Canon
Rank: B-rank
Type: Supplementary
Element: /
Range: /
Specialty: Ninjutsu
Duration: Until the clone is destroyed, dispersed, or runs out of chakra
Cooldown: Three posts after the last clone is destroyed.
Description: Similar to the Clone Technique, this technique creates clones of the user. However, these clones are actual copies, not illusions. The clones are capable of performing techniques on their own and can even bleed, but will usually disperse after one or two solid blows. They can also disperse on their own. The clones will be created in roughly the same condition as the original. Shadow clones can't be distinguished from the actual person even by the Byakugan because the clones have the exact same amount of chakra and aren't made from any other substance.

A characteristic that is unique to the Shadow Clone Technique is that any experience the clones gain during their existence is transferred to the user once they are dispersed. This makes the technique ideal for spying, since the user can simply send a clone to spy on a target, then have the clone disperse itself without returning to pass the information back to the user.

(When making a Shadow Clone the user must spend 20 of their chakra per clone, however they may if they so choose give their clone more chakra. Example: If you want your clone to have 50 chakra then you must spend 20 chakra to make the clone and an additional 30 on top of that for the extra 30 chakra. Each clone otherwise will have 20 chakra unless given more - when the chakra is used up the clone will disappear.)

Monkey Ball:


Name: Monkey Ball
Canon/Custom: Custom
Rank: C
Type: Offensive
Element: Fuuton
Range: Mid Range
Specialty: Ninjutsu
Duration: 1 post
Cooldown: 3 posts
Description: Little Kong can quickly gather a "ball" of wind between his palms (Forming it similar to a Rasengan) and throw it at opponents. The Monkey Ball dissipates after traveling 10 feet, being more effective the closer he is to a potential victim when thrown. It travels roughly the speed of a Chuunin skilled in Taijutsu techniques (65 mph.) A victim hit in the face will receive injuries such as black eyes, bruising, or possible teeth knocked from their gums, and be stunned for 1 post. A chest blow will produce the same stunned result. Little Kong can use this attack to knock weapons from opponent's hands, and hinder their movements and actions by aiming for joints. (Elbow, Knee, Wrist, Ankle, Groin, ect) Little Kong can even trip highly mobile opponents with this Technique. The Monkey Ball can be combined with a Katon Technique to raise it's power 1 rank.

Big Monkey Ball:

Name: Big Monkey Ball
Canon/Custom: Custom
Rank: A
Type: Offensive
Element: Fuuton
Range: Mid - Long
Specialty: Ninjutsu
Duration: 1 post
Cooldown: 3 posts
Description: A more advanced and destructive version of his trademark move, The Big Monkey Ball, roughly the size of a beach ball, is capable of bending metal, smashing through rock, and breaking bones. It can travel as far as 20 feet before dissipating, and it moves as fast as an A-Rank Jounin skilled in Taijutsu (130 mph.) A solid connection upon a living opponent A-Rank and lower without sufficient defenses will break whatever bone it hits. Opponents hit in the mid-section will face injuries as minor as broken ribs and as major as a shattered sternum and collapsed lungs. Those hit in the head risk a concussion, being knocked unconscious, and, depending on the angle thrown, decapitation.

Super Monkey Ball:

Name: Super Monkey Ball
Canon/Custom: Custom
Rank: S
Type: Offensive
Element: Fuuton
Range: Mid - Long
Specialty: Ninjutsu
Duration: 2 post
Cooldown: 5 posts
Description: Little Kong's ultimate attack. He forms a ball of compressed air tripled his size, which takes an entire post to form. If interrupted, he must start over. Upon contact with another solid surface or person, the Super Monkey Ball detonates with the force of a category 5 hurricane which affects the area the size of a city block, capable of digging a crater into the ground, knocking over large trees, unearthing large boulders, and leveling structures as large as 2 story buildings with ease. A victim caught in the wake of this detonation (A-Rank and lower without sufficient defenses) can be thrown as far as a mile, and will suffer severe and life threatening injuries requiring immediate medical attention.
Name:
Kurai's Jacket
Type of Armor:Rank:
S
Elemental Alignment:
-
Quantity:
1
Protection:
This Jacket can block all basic attacks (kunai, swords, punches) and make them negligible if they are S-rank or lower. Basic attacks of SS-rank or lower do 1 rank less in damage. The jacket, when zipped up, completely covers the user from the neck down to their feet and hands.
Ability/Function:
This jacket completely hides any trace of the user's presence from S-rank chakra sensory jutsu and below.
Appearance:
Spoiler:
History:
This is a jacket from the brief time Kurai served as Kage of a country of Grass. It is dyed black and has the Kanji in white on the rear of it that stand for "Dust Mastery." While being of Kurai's own personal design, it is the standard Kage uniform that has been used for hundreds of years. It has suffered very slight modifications, like the additional abilities, but has essentially remained the same.
Item:
Wireless Radio
Rank:
D
Quantity:
1
Price:
150 Ryo each
Description:
The wireless radio transmits signals using electromagnetic waves with frequencies below those of visible light, which are then recieved by other radios tuned into the same frequency, and are useful for long range communication up to a range of 2 kilometres. However, this form of communication can be intercepted by certain devices, and as such is insecure.
Appearance:
Item:
Forehead Protector
Rank:
E
Quantity:
1
Price:
Free
Description:
The most important article of clothing for any and all shinobi is their forehead protector. This headband signifies where the loyalty of a shinobi lies. It also signifies equality among shinobi of the same village. In order to be considered an official ninja, one must graduate and earn one of these headbands. A missing-nin puts a scratch across their village symbol on these to signify their defection from that village. They can also serve a practical purpose, acting as protection for a ninja's forehead whilst in battle.
Appearance: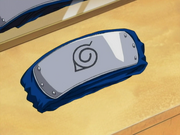 Item:
Kunai
Rank:
D
Quantity:
6
Price:
15 Ryo per kunai. Available in packs of 10 for 100 Ryo.
Description:
The kunai, or throwing knife, is one of the
most common tools of the shinobi, as it is useful for both close quarters and long range combat, as well as being used in conjunction with other materials such as explosive tags or wire to form deadly combinations.
Appearance:
Item:
Senbon
Rank:
D
Quantity:
20
Price:
1 Ryo per senbon. Only Available in packs of 10 for 10 Ryo, 50 for 50 ryo, and 100 for 100 ryo
Description:
The senbon, first used by doctors in acupuncture, began to become utilised by shinobi, specifically hunter-ninja. The senbon is valued for it's ability to hit precision points on the targets body, able to cause death, cripple limbs or knock the target unconcious. In the right hands, of course.
Appearance:
Item:
Shuriken
Rank:
D
Quantity:
6
Price:
15 Ryo per shuriken. Available in packs of 10 for 150 Ryo.
Description:
The Shuriken, or throwing star, is a common long range projectile weapon of the shinobi.
Appearance:



Posts

: 3


Currency

: 150


Join date

: 2016-11-21




Similar topics
---
Permissions in this forum:
You
cannot
reply to topics in this forum